Descendancy: [40] 

1 Howell (Hywel) BLAYNEY of Manafon b.1411 d.
  According to S.P. Thomas [240]], Howell was granted the lease of "one corn-mill and one fulling-mill
  of Eberrewe" (Berriew) in 1459 by Richard, Duke of York -see Comment 1
 +(1)Alson (Gwenllian) daughter of Madoc ab Ievan  
  
  2 Owen (Owain, Owene) ap Howell BLAYNEY b~1444
   + Lowri (Lairy) ferch Morgan ap Jenkyn Lloyd ap Morris [707]
    3 William BLAYNEY
     + Elen ferch John
    3 John ab Owen of Berriew. Will dated 20Aug1569
      4 Two sons, Owen & Edward [240]     
    3 Howell (Hywel) ap Owen BLAYNEY of Ystumgwern b~1490
      Living in parish of "Tregonon", co. Montgomery in 1574 [798]
      Living in Ystumgwern in 1559 [571] 
      Heir of Howell [707] [1227]
     +(1)Margret ferch Robert ap David ap John ab Ednyfed (Dymond)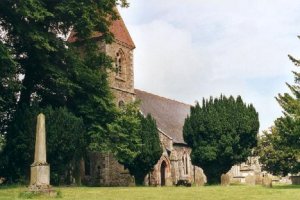 Church of Berriew

4 Owen (Owain) BLAYNEY (BLAENEY) JP of Ystymgwern / Stingwern b~1522; d.1599; buried 1/4Jan1599 (Berriew) [571] (or 1Jan1600) Escheator of County 1578. On the Grand Jury ~1582 Lodge's and Playfair's Peerage of Ireland [707] [1227] incorrectly has him granted land in Leitrim as commission for the "plantation" of Leitrim by King James I on 9Jul1622 (23 years after Owen's death!). The poet Lewys Dwnn, in his 1599 elegy wrote "we shall not be able to live after him" [570] + Joyce (Joes/Jane) ferch Mathew Goch ap Thomas ap Rees (PRYCE) of Elyston-Glodyth This is Joyce PRYCE, the dau of Matthew PRYCE of Newton (Sheriff in 1548) [1413] p11 and Jouce ferch Evan Gwyn James [373] (his 2nd wife) [497] [734]. [Mathew & Jouce's first son & heir was John PRYCE of Newtown (see Comment 1), whose daughter, Bridget married Lewis BLAYNEY of Gregynog. Their 2nd son was Arthur PRYCE of Faenor (Vaynor) [571] (MP for Montgomery in 1571 and High Sheriff in 1578 [389a]), who married Bridget BOURCHIER, dau of John BOURCHIER, Earl of Bath. Matthew's 1st wife was Jane ferch Llen Vaughan ap Sir David GAM] 5 Elsbeth (Elizabeth) BLAYNEY [570] + Jenkyn ap David ap Jenkyn [707] [2nd son of David Lloyd ab Jenkyn ab Maurice ab Jenkyn Goch of Clochfaen, Llanywared [1359]] 5 Sioes BLAYNEY [570] 5 Mari (Mary, ?Margaret [707]) BLAYNEY [570] 5 Richard (Rhisiart) BLAYNEY of Stingwern b~1555 d.1603; Heir of Owen. + Elizabeth ferch Richard ap Hugh, of Mathavarn 6 Owen BLAYNEY of Ystumgwern (snr) ?Magistrate 1611 + Elizabeth (?kin, descended from Hywel) 7 Joyce BLAYNEY bpt.1611 (Berriew) (or could be a dau of Owen jnr) 7 Owen BLAYNEY of Ystumgwern (jnr) Magistrate 1633 = Owen (Owinus) BLAYNEY de Ystymgwerne, gent; Magistrate for Tregynon 1633-4 [337] + Ellen (Elene) of Rockthadine This is most probably the widow Ellen Blayney of Brynchamishire who along with her son Richard BLAYNEY of "Rock-thadine" (see below) was granted on 15Jun1647 "a messuage and lands called y Ty yn y Pant in Keelkchwyn, co. Montgomery" [1285] 8 Ann BLAYNEY bpt.1617 (Berriew) 8 Blainch BLAYNEY bpt.1619 (Berriew) 8 Richard BLAYNEY bpt.Jun1622 (Berriew); bur.28Oct1683 (Wrockwardine) "of Broseley" [1158] Sold Ystumgwern (Estingwerne) property to Evan Jones in 1647 [571] + Susannah JONES m.6Oct1640 (Benthall) [154] [801] d.28Nov1686 [1159] [1162] She subsequently married Zachariah DAVIES of Kilcochwyn 9 Thomas BLAYNEY bur 4Apr1670 (Broseley) or 12Jun1698 (Berriew) 9 Elizabeth BLAYNEY b.17Apr1642; d.6Jan1675 9 Richard Blayney (Blaney) bpt.14Sep1645 (Broseley) [1157] bur.~1688 Bettws [previously thought to be a candidate to be the Thomas BLAYNEY of Llanllwchaiarn] + Mary Bowyer m.1681; bur.1683 (Wrockwardine) 10 ?Thomas BLAYNEY, the African link 10 "Blaneys" "continue to appear in the Wrockwardine registers, descending in social scale rather rapidly" [226]. See Shropshire 9 Margaret(Margrett) BLAYNEY b.28Jan1648 + John DAVIES m.1678 [1159] 9 John BLAYNEY b.22Aug1652; d.27Apr1722 + Gertrude d.27Mar1729 [1157] 10 William BLAYNEY bpt 30Oct1690 [1159] + Elizabeth MATTHEWS m.9Dec1712 (Linley) 10 John BLAYNEY b.2Sep1696; d.27Apr1722 [1157] + Mary CROMPTON née HARRISON m.1720 11 William BLAYNEY b.21Aug1721 + Sarah ?GITHINS of Benthall; m.1748 (Shrewsbury) 11 Richard BLAYNEY b.23Nov1722 11 John BLAYNEY b.11Feb1723 [1157] 11 Elizabeth BLAYNEY b.10Oct1725 [1157] 11 Elinor BLAYNEY b.5Oct1727 11 Sussanah BLAYNEY b.16Oct1729 [1157]; bur 16Feb1730 [1157] 9 David BLAYNEY b.17Dec1654 9 Jane BLAYNEY b.13Jun1658 + Robert Frost 5 BLAYNEY [570] 4 John BLAYNEY (clerk) + Margred ferch David ap John 5 Alexander BLAYNEY 5 James BLAYNEY 4 Richard POWELL (ap Howell) (alias BLAYNEY) of Berriew [240] 4 Thomas BLAYNEY alias POLL alias APPOWELL (ie ap Howell) [240] Witness to a conveyance of land to David Lloyd BLAYNEY of Gregynog in 1583 + Margaret 5 Owen BLAYNEY 4 ?Morris ap Howell ab Owen BLAYNEY of Berriew (will of 1570 had only daughters [240]) 4 Robert (POWELL) alias BLAINEY (BLAYNEY) d~1579 [will of 1577 proved 27Apr1579 [240]] + Dyddgu (Gyddgo) ferch Gruffudd (Griffith) ap Owen ap Gruffudd of Penryn 5 Evan (Ievan), living in 1593 [707] - See Jenn BLAYNEY below 5 Morris BLAYNEY [844] - See Morris BLAYNEY below 5 Owen BLAYNEY [844] (Owain) 5 Dafydd (David) 5 John (not in Lodge's Peerage of Ireland list [707]) 5 Robert (only in Lodge's Peerage of Ireland list [707]) and five daughters (Ellen, Caterine, Blaince, Jone and Jane, according to David's will of 1616) (Catharine, Mary, Margaret, Elizabeth and Anne, according to Lodge's Peerage of Ireland [707]) 5 Jenn (Ievann, Evan) BLAYNEY, Gent of Fachir, Berriew and Pwllan (Tregynog) d.1599 [844] Eldest of Robert's children [240]]. Will dated 1598 [844]; bur 25Jan1598 (Berriew) + Ellen [844] (Elen) KEELING 6 Evan (Ieuan) BLAYNEY (BLAINEY), Gent of Fachir; Keel, Berriew & Pwllan (Tregynon) Son or nephew of the Evan BLAYNEY who died 1598 [226] Probably the Evan Blayney of Cil (Keel) selling property in Garthmyl and Trwstllewelyn in 1642 and buying more land in Cil in 1642 [571] + Margaret PRYCE, probably the dau. of Edward PRYCE of Vaynor and Margaret ROBINSON and sister of Arthur PRYCE (whose dau Bridget married George DEVEREUX, MP) [145] [264] 7 John BLAYNEY bpt.1605; d~1666 + Margaret 7 Jane BLAYNEY bpt.1606 7 Edward BLAYNEY bpt.1609 ?bur.1667 7 Arthur BLAYNEY bpt.1611 ?dsp 7 Richard BLAYNEY bur.2May1624 7 Lawrence (Lamonse) BLAYNEY bpt.Mar1618 7 Thomas BLAYNEY bpt.2Jul1615 (Berriew) of Coedyperthi in Pwllan (near Berriew) Deputy Sheriff in 1658 to Sir George DEVEREUX MP of Sheldon Hill who d.1682, a Parliamentarian who built Vaynor Park.

Previously thought to be the Thomas Blayney given a Warrant to be purveyor of the Royal Stables 1660 [349], a Warrant to be Sergeant-at-Arms 1660 [349] and Sergeant-at-Arms to King Charles II Mar1665 [336] who married Hester BLACKWELL dau of Michael BLACKWELL of Rootham, Kent and had a son Thomas BLAYNEY [336]
However, this Thomas Blayney bore Kinsham Blayney arms [145]).

5 Morris [ap Robert] BLAYNEY (BLAENEY), gent. of Fachir, Berriew; Foreman of Grand Jury 1613/14; Robert's 2nd son [240]]. Bur.19Jun1614 Berriew + Dorothy of Fachir ---NOTE: As the following children of Morris BLAYNEY listed in the baptismal entries at Berriew include two siblings born after the death of Morris Blayney (in 1614), so they must be his grandchildren, not be his children. S.P. Thomas [226] also postulates a missing son of Morris, also named Morris, which would resolve this issue. ie: 6 Morris BLAYNEY (presumed/postulated) [226] b~1580 (= my guess) + unknown The following siblings have thus been dropped down a generation: 7 Mary BLAYNEY bpt.23Nov1605 at Berriew 7 Edward BLAYNEY bpt.16Feb1606; Grand Juror Bettws 1634 + Mary 8 Morris (Moris) BLAYNEY of Fachir bpt.16Dec1625 Grand Juror 1658 + ?Anne bur.31May1698 9 Edward BLAYNEY On Grand Jury 1680 & 1690 Sold Fachir to Lord Hereford, 1690 + Lucy BLAYNEY d.1725 [1st cousin once removed] (dau of Morris BLAYNEY of Highgate/Heigate, Bettws Cedewain) 10 Mary BLAYNEY bpt.1683 Bettws 10 Morris (Maurice) BLAYNEY bpt.1685 Bettws 10 Edward BLAYNEY bpt.1687; bur?1691 10 Arthur BLAYNEY bpt.1694 10 Richard BLAYNEY bpt.1696; bur.1697 10 Thomas BLAYNEY [M.C 46, ptII pp138-9] 10 "several daughters" 9 Robert BLAYNEY of Vaynor Ucha, Berriew ?bur.1696 Find Vaynor on Streetmap + unknown 10 John BLAYNEY bpt. & bur.1696 Tregynon 9 Thomas BLAYNEY + ?unknown 10 ?Edward BLAYNEY 10 ?Hugh BLAYNEY 9 Morris BLAYNEY 9 Howell BLAYNEY of Tregynon + Margaret d.21Mar1704/5 10 Three children d.y.: Thomas (1693/4-1706/7), Hoel (1699-1709) & dau d.1706/7 [71] 9 Richard (Richaredi) BLAYNEY NOTE: Richard is postulated (by me) as a son of Morris & Ann, based on relationships in Arthur's Will and the Forden parish register. [226], [344]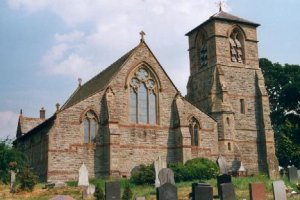 Forden Church 4 Km east of Berriew & Vaynor

Alternatively this Rchard could be the son of Evan BLAYNEY Gent of Fachir; Keel, Berriew, Pwllan & Cil (Keel) or even the Richards of Wrockwardine or Broseley (son) + Mary (Maria) bur.24May1624 (Kerry) 10 Morris (Moricei) BLAYNEY bpt.15Apr1604 (Kerry) + ___ 11 Edward (Edvarcus) BLAYNEY (BLAYNIE) of Kerry), gent.; bpt.23/26Feb1623; a Great Sessions Juror 1690/1 10 Alexander BLAYNEY bur.1641 (Kerry) 10 Gwenffida + David ap David m.1610 10 Arthur (Arthurus) BLAYNEY of Hem, Forden, bpt.29Jun1618 (Kerry); bur.1668 (Forden); yeoman + Martha d.1695 11 Richard bur.1682 10 John ap Richard BLAYNEY (John Richard alias BLAYNEY) bur.1689 + ? 11 Richard 11 dau ?Elinor + Richard GAGE 1696 (Forden) 10 Maria BLAYNEY bur.24May1624 (Kerry), Shown as dau of Richaedi Blayney [344], so presumably a perinatal death, named after and buried with her mother who presumably died in childbirth. 7 Jane BLAYNEY bpt.12Aug1608 at Berriew ?d.y. 7 Thomas BLAYNEY bpt.31Dec1612 at Berriew; bur.1695 Bettws Cedewain Gent of Coedyperthi/Pwllan [Coed y Perthy, Pullan], Tregynon, Dept. Sheriff 1658 & 1667 + Elizabeth 8 Edward BLAYNEY m.1664 bur.1692 Tregynon; Gent of Coed y Perthy + Elizabeth (Betty) THOMAS eldest dau of Rees THOMAS of Penrhyn, Berriew 9 Thomas BLAYNEY bpt.?1666 (eldest son [800]) 9 James BLAYNEY bur.1681 Tregynog 9 Edward BLAYNEY 9 Elizabeth BLAYNEY bpt.1672; Eldest dau & spinster 20Apr1693 but m. by 25Sep1695 [800] + John ROWLEY of Pwllan, gent.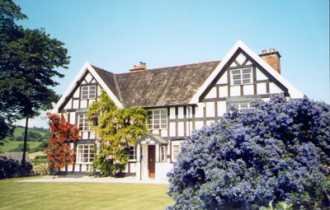 Highgate (Heigate) 1 mile from Bettws Cedewain

7 Morris (Maurice) BLAYNEY bpt.2Oct1619 gent of Highgate

(Heigate) in Bettws Cedewain; bur.1688 Bettws [71] + Mary PRYCE (PREECE/REECE) bur.1673 (Bettws) dau of Maurice PRYCE of Bettws From the 1681 St Asaph Notitiae [95] we know that there were seven "souls" in the Moris Blayney household [see list], six older than the 17 yr old youngest (ie Lucy) who thus was born about 1664. 8 Thomas BLAYNEY b~1650 alive 1688 + Dorcas ___ 9 Dorcas BLAYNEY + Richard BLAYNEY (7th cousin once removed) 9 Morris BLAYNEY bpt.1688 Bettws 9 Elizabeth BLAYNEY bur.1691 Bettws 8 Edward BLAYNEY b~1652; m<1679; alive 1688; bur.1691 + unknown 9 Five children ?including 9 Thomas BLAYNEY [previously thought to be a candidate to be Thomas BLAYNEY of Llanllwchaiarn] 9 Maurice BLAYNEY bpt.1685 9 Arthur BLAYNEY bpt.27May1694 8 Richard BLAYNEY b~1656 alive 1688 d.1709 ?unm (Bridgnorth) Close ties with children of Arthur Weaver (owner of Heigate & the Morville estate). 8 Margaret BLAYNEY bpt.1664 + Owen 9 Owen Lewis ab OWEN 8 Lucy BLAYNEY b~1664 alive 1672 + Edward BLAYNEY of Faehir [71] (1st cousin) 8 Bridget ("Base-daughter" so presumably not Mary's) b~1670 alive 1688 7 Richard BLAYNEY ? [previously thought to be the father of Thomas BLAYNEY of Llanllwchaiarn] [Possibly the Richard of the Vaynor Ucha Court Leet 1660-1688 and possibly appearing in the 1681 St Asaph's Notitiae for Berriew, bur. 1683 and/or the Richard, father of Richard bap Broseley 1645), or even a son of Richard "of Wrockwardine" buried 1683 [145]] 7 Jane BLAYNEY b~1638 alive 1689 [72] + Edward TANNER of Bettws 8 Six children 5

Dafydd (David) BLAYNEY b~1568 (Matriculated at Oxford 1585 aged 17) [329], Curate of Tregynog 1595-1621; Bondsman to the will of Roger Warde 07Oct1595 [337] Robert's 3rd and youngest son [240]]. 5 Daughters of Robert include Katherine (eldest), Mary, Margaret, Anne and Elizabeth [240]]. 5 Owen BLAYNEY Esquire of Ystymgwerne / Stingwern; b.? after Robert's Will made. Bur.1Jan1599/1600 + Joyce +(2)Gwenththlean ferch David 2nd wife of Howell according to Lodge's and Playfair's Peerage of Ireland [707] [1227] Daughter and heiress of David ap John Goch 4 Thomas BLAYNEY ? the same as Thomas alias POLL alias APPOWELL above 4 Mary BLAYNE + Thomas ap Jenkyn Lloyd 4 Ellice BLAYNE + David Lloyd ap Morgan 3 Rhys BLAYNEY b~1485 (1475/1500) + Joyce ferch Morus Goch 4 Morus BLAYNEY + Jane ferch Meredydd ?ap Ievan Llwyd ap Ievan ap Hywel 2 Catrin BLAYNEY + Rhys ap Morus 2 Griffith (Gruffydd) ap Howell BLAYNEY b~1442 of Manafon, possible son of Catrin ap Gruffudd As grandson of "Jevan Blaynie" was granted a lease of the Grange y Gelynnoc (of Celynog) from the Abbey of Strata Florida in 1521 [226]) with "appurtenances" in Gregynog. Living Manafon 1540. + Catherine (Katherine) ferch Edward ap Howell of Vaenor y Cwm (Vaynor y Cwm) ap Ieuan Lloyd ap Dafydd ap Philip Goch ap Howel ap Llwelyn ap Meilir Gryg Find Vaynor on Streetmap 3 Catrin BLAYNEY +(1)David Lloyd ab Owain VAUGHAN 1(2)David Goch ap Hywel 3 Gwenllian BLAYNEY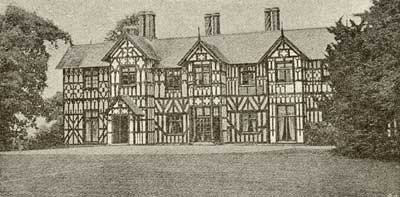 Marrington Hall

+ Oliver LLOYD ap David Lloyd VAUGHAN of Marrington Lord of the manor of Marrington, Salop Son of David Lloyd VAUGHAN and Margaret MIDDLETON [374] 4 Richard LLOYD of Marrington, J.P. Made a sundial for the Hall in 1595 inscribed "FROM DAI TO DAI THESE SHADES DO FLEE AND SO THIS LIFE PASSETH AWAIE" + Lucy POWELL of Edenhope 4 Edmund LLOYD of the Swan, Ludlow dsp~1607 [374] 4 William LLOYD, of Snead d~1602 [374] 4 Humphrey LLOYD d.y. [374] 4 Ludovic (Ludowick(e)) LLOYD b~1545/73 d.1610 courtier, versifier, and compiler at the court of Queen Elizabeth I [227] [Sergeant-at-Arms and Gentleman-in-Waiting [374]] Wrote "The Pilgrimage of Princes" by Lodowike Lloid, Esquier [1414] p78. Thought to be the exemplar of Shakespeare's "Fluellen" [145] 4 Richard LLOYD (Jun) [374] 3 Florence (Florens) BLAYNEY + James ap Rhys, a descendant of Howell ap Madoc, an ancestor of the Kinsham Blayneys [226] 3 Jonet BLAYNEY + Hywel ap Morus 3 Margred + Rhys ap Robert ap John of Castle Caereinion 3 Rees (Rhys) Wynn (Gwynn) ap Griffith BLAYNEY of Stingwern b~1480. On a jury pool 1545. +(1)Gwenllian ferch John +(2)Elen (Eleanor) ferch Griffith ap Meredith Vaughan of Milienydd 4 John ap Rees Wynn (aka John PRICE). Gentleman of Manavon; b~1500-1530 + Joes (Joyce) ferch John Harley of Brampton Castle (Herefordshire) 5 Richard PRICE [from dropping "a" from "ap Rhys"] b~1550 + Jane, daughter of Allen BLUNDERVILLE of Stantley, Derbyshire 6 John PRICE + Sarah, daughter of Cadwaladr (ap Hugh) ap Owen ap Llywelyn ap Dafydd ap Howel of Dolas (Dô lĊs). The mother of Cadwaladr ap Hugh was a dau of Rhys Wynn ap Gruffydd ap Howel ap Evan BLAYNEY 7 Priamus PRICE (PRYCE) + Elizabeth daughter of Leonard Gough ap Richard ap John Gough ap Roger Gough of Marsh 7 Richard PRICE 7 Solomon PRICE 7 Judith PRICE 4 Margred BLAYNEY + ? ab Owain 4 Catrin BLAYNEY + Dafydd ap Ieuan 4 Catherine b~1510 + John ap David (Dafydd/Davydd) Hir of Llivior/Berriew, descended also from Meilir Gryg [229] 5 Edward ap John (heir) 5 Morus ap John + Catherine, co-heir to Richard ab Owen ap Gutyn Penwyn 5 also Richard, Thomas Rees and 5 Gwen + David ap Grufydd of Manavon 4 Thomas BLAYNEY + Margred ferch Dafydd Llwyd 4 Hugh BLAYNEY [son of "Rees Wyn BLAINE" mentioned in the British Museum Addnl MS. 9865, p7 [226]] + Elsabeth 5 John ap Hugh ap Rees WYN (WYNE) + ___ 6 Elizabeth ferch John 5 Thomas ap Hugh ap Rees WYN 4 ?Edward ap Rhys Wynn of Llandinam + Blanche, youngest child of Jenkin LLOYD of Berthlloyd & Dorothy WALTER 3 Owen (Owain) ap Griffith BLAYNEY ancestor of the Blayneys of Aberhafesp [226] + Alice ferch Hywle 4 Rees (Rhys) ab Owen BLAYNEY b~1515 + Ellen (Elen) ferch Cadwaladr (Cadwalader) of the Rustock 5 Thomas BLAYNEY of Aberhafesp b~1548 + Mawd ferch Rees ap Maurice ab Owen ap Evan BLAYNEY (Maud PRICE). 6 Edward BLAYNEY bpt.1583 Aberhafesp (of Llanvechan) but appears to have returned to Tregynon. + Juliana Very possibly the Julian VAUGHAN (dau of John VAUGHAN of Llwydiart) who had ?previously married Edward Pryce, Sheriff of Newtown to whom she had Sir John Pryce of Newtown, 1st Baronet (d<1657) 7 Arthur BLAYNEY of Tregynon bur.1680 + Mary 8 Edward BLAYNEY bpt Tregynon 1674 8 Juliana bpt.1667 Tregynon 6 Bridgett BLAYNEY bpt.1585 Aberhafesp 6 Elizabeth BLAYNEY bpt.1586 Aberhafesp 6 Mary BLAYNEY bpt.1588 Aberhafesp 6 unknown daughter + Watkyn BLAYNEY 6 William BLAYNEY bpt.1588 Aberhafesp 6 Catherine BLAYNEY bpt.1592 Aberhafesp 6 John BLAYNEY of The Hill bpt.1597 Aberhafesp Presumably very well off as the John Blayney Esq of "Lanvagan Townshipp" (=Llanfechan), owned 13 hearths in the 1671 Hearth Tax! [342] d~1671 [??of shock at paying the Hearth tax!!] + Catherine = Katherine Blayney This was probably the Katherine BLAYNEY, widow, buried Aberhafesp, 17Jun1676 [72] 7 Thomas BLAYNEY b~1625 m?~1647 Gent. of Aberhafesp. d<1705 [72] + ___ 7 Elizabeth BLAYNEY bpt.1634 7 ?Margaret BLAYNEY bpt 1667 7 Edward (?James) BLAYNEY of The Hill bpt.1637 Gent. of Hill, Aberhafesp [see St Asaph Notitiae]. Nephew of Arthur BLAYNEY, gent. of Cefn Gwyfydd, Gregynon [12] Died before 1685 (will of brother) and after 1681 [95] + Elizabeth JODRELL (JODWELL) m.1676 dau of Mr & Lowry JODRELL Edward Blayney and his wife of Aberhafesp were cited 24Apr1682 as absenters from church [72] 8 John BLAYNEY of The Hill b~1684 + Bridgett (?Judith) 9 John BLAYNEY bpt. & bur 1707 9 John BLAYNEY bpt. & bur 1717 9 Rees BLAYNEY bpt.1712 9 two daughters 8 Jodrell (Jodrellus) BLAYNEY bpt.28Feb1691/2 (Llanllwchaiarn) 8 Thomas BLAYNEY [72] b~1682 d~1759 of Aberhafesp [previously thought to be a candidate to be Thomas BLAYNEY of Llanllwchaiarn -see Origin 1] 8 Lourie (Lowry) BLAYNEY b~1680 alive 1688 d.unm 1756 (Newtown) 8 Katherine BLAYNEY b.13Apr1685 (Aberhafesp) d.unm 1756 (Newtown) 7 John BLAYNEY bpt.1646 (or 1650) 7 Owen BLAYNEY + Margaret 8 Margaret BLAYNEY bpt.1670 Newtown 8 Owen BLAYNEY bpt.1673 7 David BLAYNEY bpt.1641 + Ann 8 ?John BLAYNEY bpt.1681 Llanwnog 7 Rees BLAYNEY 7 Arthur BLAYNEY Gent. of Aberhafesp [72] but b. Llanllwchaearn Nephew of Andrew Blayney, son of Sir Edward Blayney d.1686 + Jane (or Gwen) m.1665 8 Caterine (Catherine) BLAYNEY bpt.1683 Llanllwchaearn 8 ?Owen BLAYNEY bpt.1666 Llanllwchaearn 6 Arthur BLAYNEY b~1627 d.1680 of Cefn Gwyfydd, Gregynon [72] + Mary/Maria GRIFFITHS m.17Nov1666 (Chirbury) ["Arthurus Blayney et Maria Griffiths" in Parish Registry [1495]] Possible Grandparents of Thomas Blayney born 1675 Shropshire 6 Rees BLAYNEY bpt.1592 + unknown 7 ?John BLAYNEY bur.1640 7 David ap Rees BLAYNEY of Aberhafesp will of 1627 [801] 3 Morus Vicar of Aberriw (Berriew) ? = Morice Griffith alias BLAYNEY, clerk of Llandyssil (5km south of Berriew) who made a will in 1570 3 John ap Griffith ab Owen [240] 3 unknown + Morgan ap Ieuan Lloyd 2 David (Dafydd) ap Howell ap Evan BLAENEY. Listed in the Cedwyn MS of 1633 [240] [??the David Blayney matriculated from Oxford 1600 [329]] [??the

David Blayney Rector of Manavon, St Asaph 1599-1622 [806]] + unknown ferch Hywle 3 ?Morris 4 ?Gruffudd ap Morus (Gruffith ap Morris) -possibly of Penegoes but doubted by Peter C Bartrum [71], [241] who believe David had only daughters and Gruffith ap Morris ap David Blayney was not a descendant of Evan BLAYNEY of Tregynon. 3 Janet + David ap John +(2)Catrin ap Gruffudd [2nd wife of Howell ap Evan Blaeney] Lodge's Peerage of Ireland [707] and Playfair [1227] have Catharine ferch Gruffeth ap Mereduk ap David ap Gruffeth Vychan of Powis (sic) as the mother of Owen, David, Richard and Rheese [707]. Owen and David are described above, Richard and Rheese are not mentioned elsewhere, as far as I can establish. 2 Owen BLAYNE, 2

David BLAYNE "was in holy orders" 2 Richard BLAYNE 2 Rheese (Rhys) BLAYNE

Comment 1: Vaynor grant from Richard, Duke of York
In 1459 Howel ap Ievan was granted the corn and fulling mills of Eberrewe (Berriew) by Richard, Duke of York [240]]. A.P. Thomas concluded that this Howel ap Evan was Howel ap Ievan BLAYNEY not Hywel ap Evan LLOYD as the dates fit the Blayney and Howell ap Evan Blayney's younger brother Owen of Aberbechan was Deputy Steward to the above Duke for his manor of Cedewain and later a squire of the Body to the Duke's eldest son, Edward IV AND the family still owned the mills in Berriew over a century later. However the Vaynor Park estate, records in the National Library of Wales state that Howel ap Ievan was succeeded by his son, Edward ap Hywel ap Ieuan Llwyd who built a house on the estate [308].

The "Visitations of Wales" reveals that this Howell ap Evan was son of Evan Lloyd of Vaynor, the son of Phillip Goch ap Howell ap Llewelyn ap Meilir Gryg [145] [496]. Meilir Gryg was the gt-gt-gt-gt-grandfather Evan Blayney of Gregynog, the father of the Howell of this page. Therefore Edward, the house builder of Vaynor Park is the 4th cousin of Evan Blayney (4th cousin once removed to Howell).

The Vaynor Park Estate records also show that Edward was succeeded by his son, Richard ap Edward, who died leaving his daughters Anne and Elizabeth as co-heiresses. The portion of Elizabeth became the property, "presumably by purchase", of Arthur Pryce of Vaynor (younger brother of John PRYCE of Newtown, the grandfather of the 1st Baronet and father-in-law of Lewis BLAYNEY). The estate then passed to the Devereux family on the marriage of Arthur's granddaughter Bridget to George Devereux, the grandfather of Pryce Devereux, 9th Viscount Hereford [308]. Arthur's sister, Joyce PRYCE married Owen BLAYNEY Esq. JP of Ystymgwern / Stingwern, so another Blayney connection exists!

Find Vaynor on Streetmap